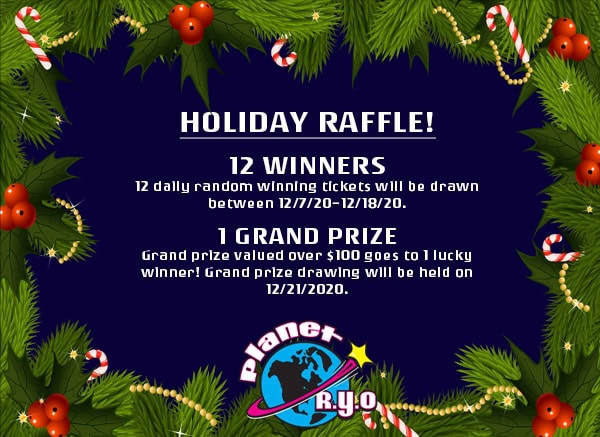 12 Days of R.Y.O. – The Smoker's Holiday Raffle – EVENT OVER
Happy Holidays!!!
If you've visited our shops you may have already taken advantage of some of our awesome holiday promotions. From CBD filled ornaments, to our multi-tier package bundles. We have something for every type of smoker.
Now we are adding even more joy with our 12 Days of R.Y.O. Holiday Raffle.
What is the 12 Days of R.Y.O.?
The 12 Days of R.Y.O. is a daily drawing spread out over 12 days, where winners will receive a free hand pipe estimated value of $20, if their number is drawn during the drawings held between 12/8/2020 and 12/19/2020.
A final grand prize raffle will be held on 12/21/20 at 4PM. The grand prize water pipe value is estimated at $100 or more.
Our daily raffles will be taking place from 12/8/2020 – 12/19/2020 at 4PM on our Facebook and IG accounts.
How to Play
When you shop at a Planet R.Y.O. location make sure to grab your receipt. This receipt will have a number which will he used in our random drawing.
Tune into our social media accounts (Facebook) (Instagram), and watch to see if your number is drawn.
If your number is drawn you may pick up your prize at a Planet R.Y.O. location during store hours (Monday-Saturday 11AM-8PM; Sunday 11AM-6PM).
Winning Numbers!
40815

40743

40848

68667

68727

68745
68780

68866

68929

68954

69028

69062
GRAND PRIZE WINNER: 68759